Pillar Nonprofit Network along with its many partners including our generous funder Ontario Trillium Foundation are providing a support system for social enterprise to grow and flourish in London Ontario. Through coaching supports and connections to resources, Pillar is working with both nonprofit social enterprises and social entrepreneurs to reach their goals in the community.
What We Offer
What is Social Enterprise?
Resources
Advisor Connect
We offer:
Coaching
Business advisors
Business model generation
Training & workshops
Social enterprise bus tours
Links to social finance
Awareness building of social enterprise

 for your FREE coaching session.
"Working with Pillar Nonprofit Network has significantly accelerated the development of my business. The availability, connections and continued mentorship from Pillar has proven to be invaluable, providing thorough and specific insight on the nonprofit, social enterprise and social finance space. I would strongly recommend that any socially focused entrepreneur contact Pillar."  Melissa Power, Founder For the Love of Laundry
What is Social Enterprise?
"An organization or business with two goals: achieve social or environmental outcomes and maximize revenue." - Impact – A Social Enterprise Strategy for Ontario 
"Social enterprises are businesses owned by nonprofit organizations, that are directly involved in the production and/or selling of goods and services for the blended purpose of generating income and achieving social, cultural, and/or environmental aims. Social enterprises are one more tool for non-profits to use to meet their mission to contribute to healthy communities." - Social Enterprise Council of Canada  
[VIDEO] What is Social Enterprise?
[VIDEO] Social Enterprise Changes Our Story
Forms of Social Enterprise - Link
Resources
London's Community Economic Road Map Dashboard
The Road Map is a guiding document for the City of London and its community and business partner organizations. 
The London Bizgrid
Your guide to the London, Ontario Business Support Network 
Click here to download PDF 
[INFOGRAPHIC] What Does Social Enterprise Look Like in London, Ontario?
Click on the image to download a PDF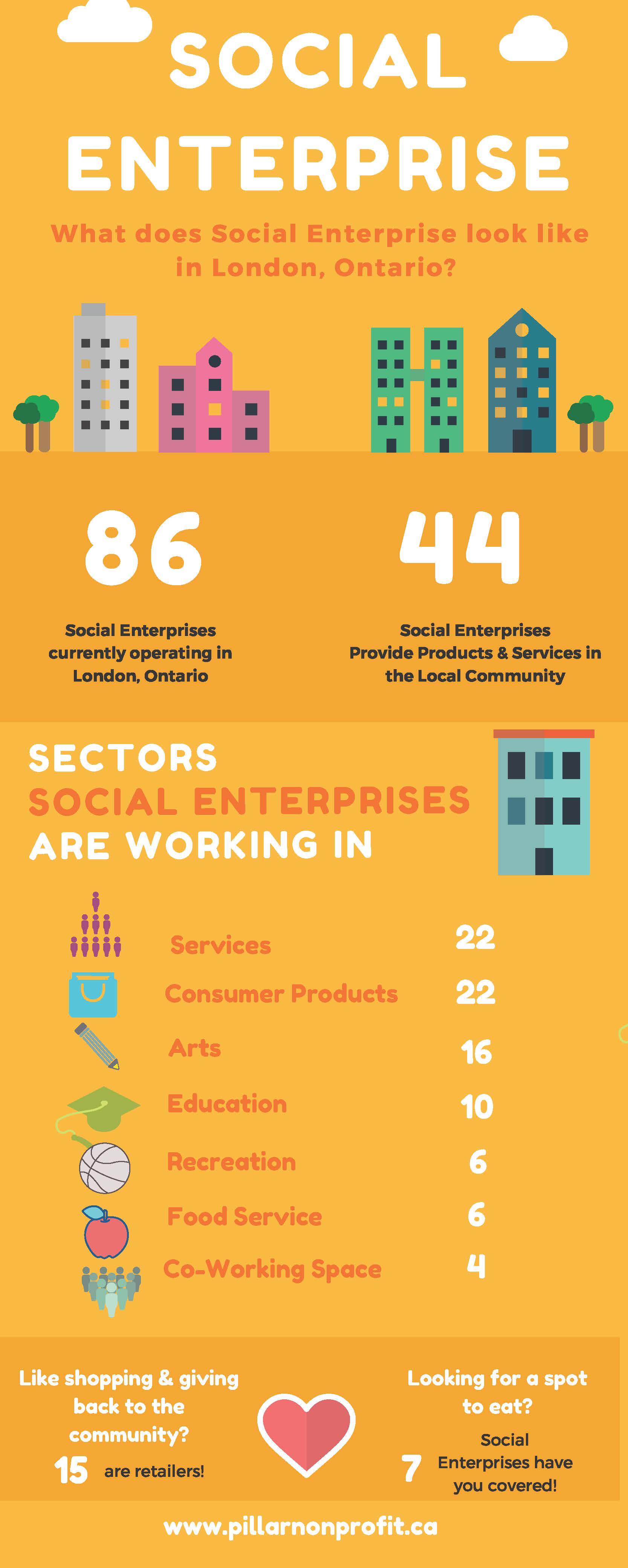 To learn more or to add to our list of resources contact:
socialenterprise@pillarnonprofit.ca
519-433-7876
ADVISOR CONNECT
"The greatest good you can do for another is not just to share your riches but to reveal to him his own." Benjamin Disraeli
Pillar Nonprofit Network has partnered with Goodwill Industries to create a community database of volunteer business advisors, mentors and contacts for social entrepreneurs supported by Pillar's Social Enterprise program and local entrepreneurs supported by Goodwill's Impact Loans program. 
The project is designed to leverage the talents of community business volunteers, matching the skills, knowledge and interests of the volunteers with the needs of entrepreneurs. Ultimately, ensure the process is smooth for both Entrepreneurs and Advisors.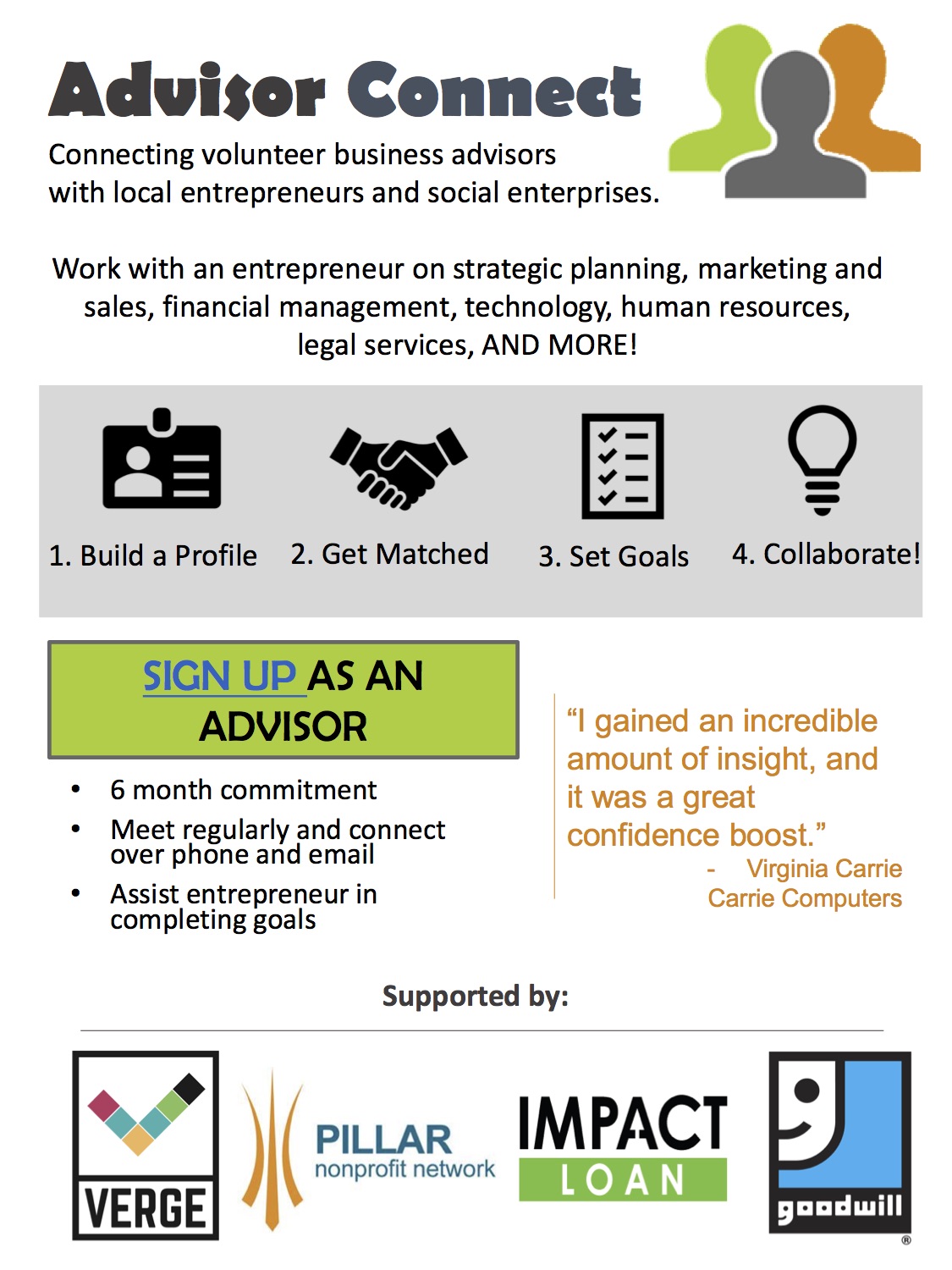 The Social Enterprise program is made possible by the Ivey School of Business and Libro Credit Union.